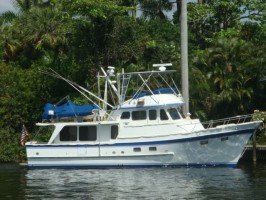 There are four types of trawlers: Trunk, Sundeck, Sedan and the Pilothouse. The pilothouse style has a hansom design and go anywhere sea- salty look. Thee Pilothouse has long been popular with northern boaters and favored by experienced yachtsman for it's "Pilothouse" and weather protected helm. In recent years we have seen their popularity grow in warmer climates where many admire their "business like" appearance. There are two types of Pilothouse trawlers; the raised and the flush deck.
The flush deck is not separated from the salon and offers no privacy. It also does not offer the view provided by the raised Pilothouse. The raised pilothouse provides operation of the vessel in complete privacy and is separate from the rest of the boat. This design is normally equipped with an overnight watch berth, a settee/dinette, a state of the art navigation station and is known for it's excellent forward and lateral visibility providing excellent night vision. Some Pilothouse's are equipped with raked windows, also known as slanted windows to help stop instrument glare at night and reflect pounding waves.

Port and starboard doors are split as a top and a bottom (commonly know as Dutch doors) so you can open the top and lookout in safety. The Portuguese bridge is a fixed solid structure with a high coaming surrounding the Pilothouse providing excellent protection from being washed overboard when the watch stander must go on deck. It also provides excellent protection from waves crashing over the bow in heavy seas.

The typical floor plan consists of cockpit access doors leading to the salon on the same level. The master stateroom with private head is generally located amidships, directly below the raised Pilothouse. The guest stateroom or staterooms are forward of the master stateroom along with a separate common head.

Some models have aft cockpit ladders that lead to the fly bridge and some with steps inside the Pilothouse leading to the fly bridge. A few models have no fly bridge.
In my opinion I consider it a must, as not having one is a negative on a resale.The fly bridge normally embodies an extended deck with a mast and boom with an electric davit to hoist the dingy to it's storage rack. The extended deck provides shade and protection over the aft cockpit and decks. The upgraded version of the Pilothouse is the Passagemaker, a better built, more expensive rugged model and is best suited for long range ocean cruising 

I hope this article gives you a better understanding of the Pilothouse trawler, however, getting onboard will be your next step if the Pilothouse sounds like it would fit your future needs.
Captain Robert Hamilton (Captain Bob)
at www.trawlerschoolcharters.com
Dania Beach Fl  trawlerschool@gmail.com
PS – For more information on learning about trawlers please click here