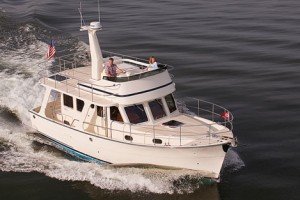 There are four types of trawlers: Sedan, Trunk, Sundeck and Pilothouse. Sedan models are sensible and conservative, they have a striking profile and a user-friendly layout. Built on a semi-displacement hull, the Sedan is a favorite among trawler enthusiasts. Owners enjoy the practicality and all around convenience this model has to offer and are willing to give up their aft master stateroom for the convenience of this floor plan.
The Sedan floor plan accommodations are plain and simple, leading from the aft cockpit through the salon access door with the galley up and helm down. Just two steps to negotiate into the forward staterooms. This model is ideal for those having loss of motion, arthritis, hip or knee replacements. If this sounds like you, then look no more, this is the trawler for you. The two staterooms are up front and separated by a thin wall which compromises a little of your privacy and there is only one bathroom which is located next to the staterooms on sizes under 46′.  This is a trade-off most experienced seafarers will surely go with.
The issue to address with the sedan is accessing the fly bridge. There is a fairly steep ladder, 5 to 6 steps on the aft deck through a hatch leading up to the fly bridge. This is an inconvenience to anyone that has loss of motion, (I just don't get it) it is hard enough to go up and down when you are dock side never mind underway???  The newer models addressed this issue and made some changes with the ladder making it much more accessible and a lot easier.
All hands on deck!  A full walk around, 360 degree deck all the same level provide the convenience of moving around safety and quickly, facilitating the handling of the dock lines with ease and the most pet friendly trawler made. Since the cockpit is located low to the waterline all-around water activities can be enjoyed by all.
Two types of sedan models were built: the original sedan, hull style, features an upright boxy appearance. The second, a very handsome trawler called the Europa Sedan. Her attractive outside lines has bridge overhangs with stylish support columns. This feature provides shaded side decks and rain protection. All other aspects of the Sedan trawlers are exactly the same.
You should know all there is to know about the four different trawler models before buying. It would be a wise choice to attend a trawler school.
The article above is just a small portion of the subjects discussed in our classes.
Sea U,
Captain Bob