A sales contract is an offer to purchase, in writing and conducted between the minds of the buying and selling party. Normally this is where negotiation's start, the buyer makes an offer and the seller counteroffers, this will go back and forth until an agreement is met. The contract is signed and bound. In the Yacht brokerage business, a 10% deposit is normally required.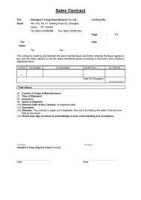 If the buyer is buying private or thru a broker, your best way to negotiate would be to put yourself in a strong position, this could result in a better purchase price. Start off with a good offer that depends on the market value and the condition of the Yacht. It was my experience that 10% of the asking price was a good outcome under the conditions I just mentioned. Beware: if you really lowball the seller he could become insulted and become harder to work with, make sure to leave room on your first offer to negotiate. Please make sure you have $5,000 in your pocket for repairs after your survey is completed, you will have a list of deficiencies you must address. Please note, you are buying a used boat and there will be many small issues to deal with.
Ok, let's make a deal! I would use the following conditions for ammunition to soften up the seller so he takes you serious and not just another tire kicker. First you must have a 10% deposit and contract filled out with an offering price, no seller will entertain an offer verbally, he will once again think of you as a tire kicker trying to get to his bottom line. You will survey his boat within a week and close within 2 weeks. This will show the seller that this is a clean quick deal and his boat will not be off the market for a long period of time. Having cash or financing set up would also be of value, this could end up saving you thousands of dollars on his counter offer.
Once the contract is signed by both parties your next step will be to survey the boat. Good luck!
This article was written by Captain Bob Hamilton, owner operator of Trawler School Charters.
For more information and articles go to www.trawlerschoolcharters.com.