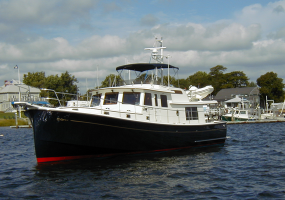 Pleasure trawlers should never be confused with the commercial fishing trawlers.
A trawler in general means: Any pleasure craft more than 25' in length that does not carry sufficient horsepower to lift itself out of the water and plane. Practically all trawlers are designed with long, deep keels. These boats are popular for cruising 7-8 knots and ideal for waterways where speeds are limited. They are well suited for long passages where fuel conservation becomes critical.
Trawlers are becoming more and more popular. They are large and roomy, normally with a 360-degree panoramic view from large slon windows. Trawlers are great for long, short or intermediate cruising, as well as being an excellent fuel consumption is beyond comparison and is respected for its long range cruising.
What draws so many life long sailors away from packing those sails? It's the style of the trawler. It has an appealing rugged look about it. In fact a lot of sail boaters have sold their sailboats and switched over to trawlers. They don't have the time or energy that is required for the kind of work that sailing often requires and feel it is time for a change.
Motor yacht owners on the other hand, don't want the expense or the upkeep of larger engines required to push the weight of the hull at higher cruising speeds. An enormous amount of stress is put on the engines, which then must be rebuilt every 3-4 thousand hours of use. Most of all they are without a deep keel, leaving their shafts and propellers unprotected. It's no wonder trawlers are increasing in popularity.
A trawler is a different breed of boat. Graceful hull lines stand out and are appealing to the eye. Large windows, which surround the salon, a mast, boom, and a steadying sail, creates the traditional look.
Let me point out one fact. Whenever we sea trial a trawler, a lot of heads turn our way. People will point to the boat, wave and yell, "What kind of boat is that?" If you don't believe me, just go down the Intercoastal on a trawler and see what happens! Oh boy, what a nice feeling!