Captain's log day 15 June 8th Saturday
As I see it, it takes 1 mile to begin a 1,700 mile journey. Southern Atlantic waterway to the shores of the Northern Atlantic waterway, region by region, state by state, city by city & wave by wave, "I shall return" to my home city of Boston Strong.
I have nothing to report today we are in wide open water and we should be out of the Chesapeake tonight and anchored right at the C & D canal. This 14 mile trip will bring us from The Chesapeake Bay to Delaware Bay.  The "C & D canal" get it? About 50 miles across the Delaware Bay we will be at Cape May and will anchor there for the night. The next morning and we will be out in the open ocean across the Atlantic City shores up to Sandy Hook. Please let there be calm sea's for that leg. Please Please Please …
This is our view for this morning.
I would like to introduce my crew (clients) they boarded in Myrtle Beach and cruising to Boston. Doctor Carey and his wife Paula.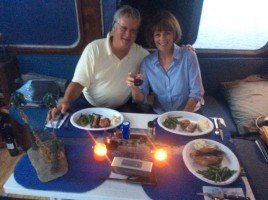 The first couple of days they did well, but at this point they are doing so well handling navigation and port of calls, along with the electronics on board, I'm just amazed and proud of their knowledge and how far they have come in such a short period of time. I'm lucky to have shipmates like them. The only problem is they are learning more than the Captain! They are teaching good old Captain Bob a few tricks, in fact they may take over, and I'll be reduced down to Cabin Boy Bob, even Wilma is starting to worry. Man oh man, talk about Gun Ho! I peek out my stateroom at 5:45am, and instead of "good morning Captain Bob," I hear, "did you check the oil & are we ready to go!" After only completing 50 miles per day when I was alone and sick and losing 4 days down time for repairs, I was set back and way behind schedule. With their enthusiasm, and 10 to 12 hour days, we have just moved right along, now we are only 600 miles away. I can smell those Boston Baked Beans and Fenway Franks GO Soxs!
One last note. Our anchorage last night at Solomon Island: we took a well deserved shore leave and found a very active seaport. Since the 70's it has become one of the top destinations for cruising boaters. It offers an array of boat yards, mariners, restaurants, and of course bars. We had a good time the crab cakes were great, according to the Dr. and Paula. Captain Bob had to stay onboard to check the oil. Only kidding!!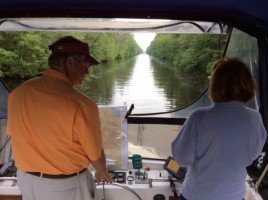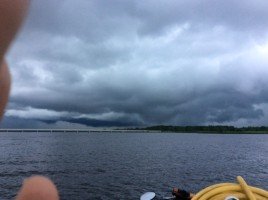 Thank god those days are far behind us.
As you can see I'm getting better at blogging, adding pictures, and storytelling.
Sea U
Captain Bob
Tags: anchorage solomon's island, chesapeake bay on a trawler, cruising the c & d canal, trawler cruising the north atlantic icw