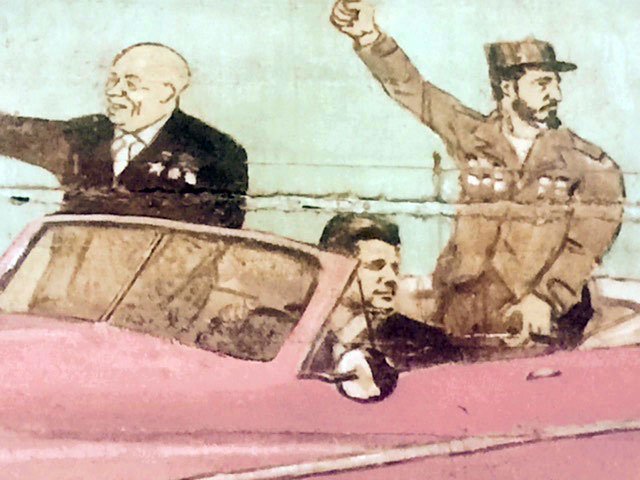 August 19 2016 4:00am
Captain Bob and Captain Harry Hinkle at the helm, hoisting the anchor, and plotting our course from
Key West to Havana, Cuba
.
Destination: Hemingway Marina, 95 NM across the Straits of Florida and the unpredictable mighty open waters of the Gulf Stream, about 12 hrs at 7.5 knots.
This is our big Cuban reunion: Havana Harry from Cape Cod and Captain Bob out of Dania Beach, FL.
Captain Hinkle (69 years young) recruited me (61 years old) into the Marines in 1973. For the past 2 years we have been talking about some day cruising to Havana, Cuba. Our Cuban dream was answered with permission to enter the the Cuban territorial seas legally under the 12-step, person to person permit issued by the USCG & Homeland Security. We are one of the first waves of American boaters to take advantage of this opportunity.
Why Cuba? It is the forbidden fruit of the Caribbean Islands that Americans cannot visit. Cuba has been a nation frozen in time since the 1950's. With 11 million friendly faces, stunning scenery, beautiful beaches, please let's not forget the rum, cigars…
The hustle of Havana outside clubs, cafes, bars & restaurants, there is music galore. You can feel the Cuban soul in the air. Be prepared to be serenaded by the many musicians & bands. The drinks and food are very cheap. Havana Harry's favorite beer was Bucanero.
Of course old 1950 cars, taxis do exist and are everywhere.  We hired a mint 1957 red convertible Caddie, it was a ride in heaven. We stayed 10 wonderful days.
In closing words cannot express the impact visiting Cuba BUT a picture is worth a thousand words! So, enjoy the pictures.
Sea U
Captain Robert Hamilton
Owner/Operator
Trawler School Charters
Tags: cruising cuba, cruising havana cuba, key west to cuba, trawler to cuba