Ready to roll at 6:00 am but consumed in heavy fog must wait it out a little. Off by 7:00am covered 95 miles in 11 hours hit a little port that has a great reputation for being the friendliest port of call in the US.
Let me tell you about Elizabeth City, otherwise called The Harbor of Hospitality. Free 48 hour docking, you will be boarded by Rose Buddies, a welcoming crew. When 5 or more boats arrive they will visit your boat with fresh cut roses for the ladies. And, a wine & cheese gathering for the visiting boaters, how cool is that?
We got of the ICW and head for the famous "Dismal Swamp" miles of wonderful canals to cruise before hitting The Swamp.
Now we are coming up to the 8:30 water lock that lets us into The Swamp.
A little history about Dismal Swamp! Writing in his journal, George Washington described the area as, "a horrible desert, with foul damps ascending without ceasing, corrupting the air, and rendering it unfit for respiration…toward the center of it no beast or bird approaches, nor so much as an insect or reptile exists. Not even a turkey buzzard will venture to fly over it…"
George Washington went thru it 9 times. He had it opened up for passage by having men hand dig the Dismal Swamp, and as you can see it is only 60 yards across.
So far I went 1,100 miles and have about 730 miles to go. We passed the NC and VA line in the Swamp. When we got out,we ended up in the Chesapeake Bay, there was a big party going on and the Tall Ships were in. The Chesapeake has the largest ship yard in the world. I saw fleets of Navy ships and Air Craft Carriers.
All the action is over folks, we are out in the Chesapeake and it is like an ocean- 178 miles of this. At least the Doctor is having fun, and his lovely wife Paula, passing a Blimp site.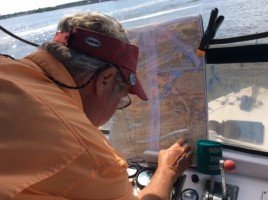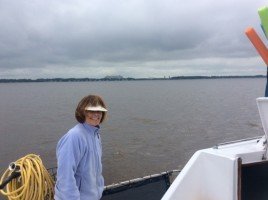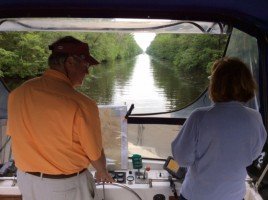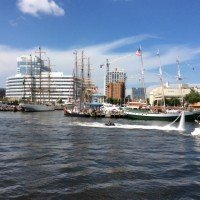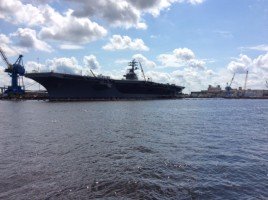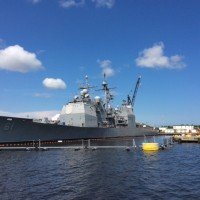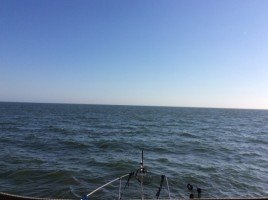 That's all folks
See u
captain Bob
Tags: cheasapeake bay on a trawler, cruising the dismal swamp, elizabeth city nc cruising