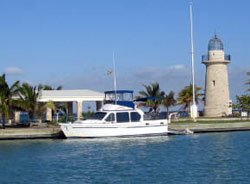 Recreational sailing in a trawler is one of the most relaxing and rewarding experiences that anyone can enjoy on the water. If you haven't spent much time in the water or didn't grow up in an environment where cruising was integrated into your everyday life, some of the most common nautical terms and phrases can be confusing to understand.
Fortunately, cruising on a trawler doesn't have to be so complicated, especially if you familiarize yourself with these terms before your aquatic adventures. Since no one is born with this knowledge innate in his or her brain, it's important to review these terms so that you're familiar with them and ready to head out to sea.
Common nautical terms and phrases include:
Dogwatch: There are two dogwatch periods when at sea. These times are between 4 and 6 pm, which is the first dogwatch, and between 6 and 8 pm, the second one. While this term originated in the 1700s, it's still unknown to experts exactly how the term was invented. It's believed to be a contraction of "dodge watch," which refers to the stressful time that cruisers experienced on this watch. The first and second dogwatch is designed to be two hours each so that cruisers aren't always assigned the same duty every day.
Down the hatch: This refers to the history of cargoes being lowered into the hatch. Seamen who carried and stowed the cargo historically used the term, but today it is known as a drinking expression.
Port and starboard: These nautical terms refer to the left and the right side of the trawler. Originally, the terms were starboard and larboard, but confusing the two terms could cause a shipwreck. Over the sound of wind and waves, it became tricky to distinguish between "starboard" and "larboard," so the latter was replaced by "port." This terminology originated in Old England, and was adopted by the United States Navy in 1846.
Mooring line: refers to any line that is utilized to tie a trawler or any sea vessel to a pier. The term originates from the Middle Dutch word "maren," which means to tie. Combined with "moren rap," a Middle English word that means "ship's rope," the two words create "mooring line," which most cruisers will use at some point in their sailing career.
These are just a few of the many nautical words that are associated with sailing on a trawler. We hope you enjoy your time at sea!