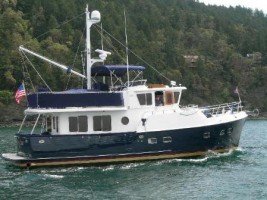 At Trawler School Charters, we've witnessed new trawler owners moving on to establish a remarkable resume of cruising experience. While all people succumb to the philosophy of lifelong learning through experience, some lessons are more important than others. Whether you're purchasing your first trawler or are buying your third, it's important to understand the most common mistakes people make when shopping for a trawler.
By understanding these errors, you can ensure the best purchase for your needs, and a trawler that will last you for many years to come. While we go over the process of thoroughly scouring the market for a trawler. Trawler School Charters can teach you what you need to know to pick the right model & size.
Unrealistic expectations: Think of buying a trawler similar to how you would purchase a car. The only difference is that you'll spend more time deliberating on the perfect trawler. In order to make the best purchase, research and actual experience is required from you, which can take a while to accumulate. While we're surrounded by cars on a daily basis, trawlers are less familiar vehicles, so it's important to understand the handling characteristics of the boat, hull design, safety, and other considerations before making a purchase. Researching and acquiring cruising experience should be your primary focus before you enter the market for a trawler.
Underestimating the cost of cruising: Owning a trawler is undoubtedly one of the most rewarding and respected endeavors a water-loving person could ever embark on. However, it's important to note that it's easy to underestimate the cost of owning a trawler. Don't let this discourage you, though. You deserve the trawler that you want! Just be sure that you're familiar with the fees, insurance, taxes, fuel, maintenance, spare parts, and other random costs that come with owning a trawler. There's not one expense that is more overwhelming than the trawler itself. Rather, it's many little costs that make trawler ownership a notable expense, but it's well worth the investment! Attending Trawler school will be a step in the right direction.
Agree with your first mate! Chances are that your "first mate" is your spouse. Most couples purchase a trawler for romantic and recreational cruising together. Heading to the sea as a couple is one of the most fantastic date nights imaginable. Just be sure that your first mate loves the trawler as much as you do before you purchase.