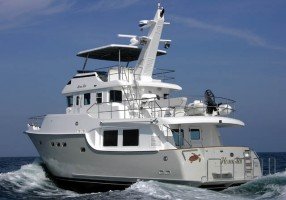 With so many boats and yachts available for purchase on the market, you may be wondering why you should select a trawler for your recreational pleasures. Known as cruising trawlers these vessels are perfect for couples long rang cruising. Trawler school charters is an excellent place to  start your learning process.
While the design of these boats is based on a rich history, it's their body itself that creates many of the benefits. Let's review some of the benefits of purchasing a trawler:
Impressive physical design: In the United States, recreational trawlers are extremely subject to fashion, which makes these vessels notable on the sea. Many of these aesthetic features include a raised pilothouse or a deckhouse that's slightly offset. Many trawlers even feature a walkway behind the foredeck, which is known as the "Portuguese bridge." Aside from serving as a convenient pathway, it also deflects water from the foredeck and creates a safe haven during stormy weather.
Fuel efficiency: With the rising costs of fuel around the globe, the fuel efficiency of the trawler makes recreational cruising on these vessels much more affordable than on other boats. When you consider the costs of insurance, maintenance, and other expenses, fuel efficiency is a major factor that makes the trawler so popular.
Safety: The large yet sleek design of recreational trawlers ensures great reliability and safety on the sea. Since these boats are popular for couples looking for romantic getaways or for families investing in fun times on the water, safety is an important consideration when purchasing a boat. Trawlers provide safety alongside an incredible design that gives your vessel a sleek look on the water.
Large storage: Because the trawler is so large, it provides incredible storage space so that your boat becomes a second home, if you will, on the water. This allows you to store anything you need to on your boat without having to worry about getting overcrowded or your belongings getting in your way.
Maintenance: Trawlers are sturdy vessels that will last for years after your purchase. Longevity of your purchase should be one of your primary focuses as you search to buy a yacht or boat for recreational sailing. Fortunately, the trawler is easy to maintain and repair! Trawler school offers a maintenance & engine class.
Whether you're purchasing your first trawler or are buying one to replace the vessel you have now, remember to consider all of these incredible benefits as you make your purchase. There's a reason the trawler is one of the most popular boats for recreational cruising!