Day 11 Friday May 29th
When I wake up I always jump into the water and float on my noodle. About 50 yards in the swamp I heard a big splash.  It was an alligator! It jumped in and came my way underwater. I had no idea how fast they are. Well, the noodle flew from between my legs about 10 feet, and I never swam so fast in my life. I left the noodle- it was unlucky and I'm not going in the water until I hit up north with the sharks.
Easy cruising, left at 11:00 and hit Myrtle Beach about 2:00. Filled the tank ($2.50 a gallon, what a deal) with one hundred gallons. Met my new clients, Paula and Dr. Carey, they are very cool. I'm sure we will have lots of laughs on the way to Boston, which will take about 12 to 15 days.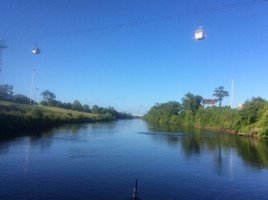 We got right off the dock and cruising about 4 hours to an anchorage near Calabash, NC. My clients told me of one of the freshest seafood restaurants on the east coast, if we arrive early enough to we mighty dingy ashore and try it out.