Posts Tagged 'sedan trawler'
December 25, 2014
OH NO! Almost bought the WRONG TRAWLER
Hi, I'm Captain Bob with Trawler School Charters. I'd like to share a couple stories I experienced with some previous charter clients. I recently had one couple that was ready to buy Sundeck trawler one week before attending trawler school. I advised them to wait until they completed their 3 day, 4 night trawler course, and so they did. Please note, there are 4 different models of trawlers: Sundeck, Trunk, Sedan, & Pilot House. Right off the bat, they told me that their 60-pound dog German Shepard (Charlie) was going on all their trawlering adventures. If they had bought the Sundeck trawler they would have been very disappointed, and cruising without their poor dog old Charlie. Why?
The aft deck is very high off the water, and has  no cockpit, so they would have had to somehow hoist the dog down onto the swim platform, and into the dinghy, 2 to 3 times a day, in order for him to do his duty on shore. I could not describe to  you how that could have been done.
If a dog is your best friend, he would have told you to go for the sedan trawler. It is pet-friendly, and has a cockpit (low to the water line) leading right onto the swim platform & into your dingy. Also there are no steps on board for Charlie to negotiate. Thankfully, they ended up purchasing a sedan and named it Paws, with paw prints painted on it, next to the name.
In another case, the couple had a contract on a trunk trawler, and it was going to survey as soon as they were through with Trawler School. A trunk trawler has the same interior layout as the sundeck, which is the model we use at Trawler School Charters. James, my client, has loss of motion, his joints do not work that well anymore as he is going on 71 years. Just being on board for a couple days he found out that the layout was just not for him. Why?
Because it was like a 4 story house climbing all those stairs.
After a week on a trunk trawler every level and step would have been painful, and his trawler dream would have been nothing but a nightmare. He canceled the contract, and ended up in a sedan trawler. He was very pleased, having no steps to hobble up and down. Please note that on the newer sedan models they have built integrated steps leading from the cockpit to the flybridge. Older models have a steep ladder and that makes it very hard to get up to the flybridge even at the dock  -never mind being under way, cruising.
These are just a couple of things to look for. I can assure you, there are many more things to consider before looking for a trawler, and that is why attending Trawler School would be an advantage before making such a costly investment, and hopefully in a trawler you'll enjoy cruising on confortably. You have ONE chance to choose the right trawler in order to enjoy your cruising years. Remember, knowledge is a trawler buyer's best friend. Hope you enjoyed this month's blog. Merry Christmas, and Happy New Years! -Captain Bob & the Miami Mermaid.
Captain Robert Hamilton
Trawler School Charters
398 East Dania Beach Blvd #281
Dania Beach, Fl 33004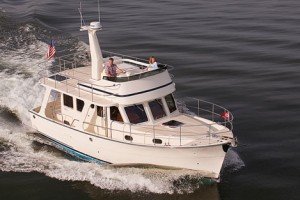 October 8, 2013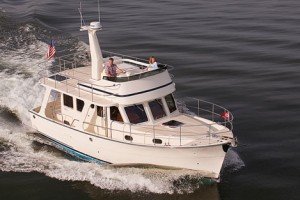 There are four types of trawlers: Sedan, Trunk, Sundeck and Pilothouse. Sedan models are sensible and conservative, they have a striking profile and a user-friendly layout. Built on a semi-displacement hull, the Sedan is a favorite among trawler enthusiasts. Owners enjoy the practicality and all around convenience this model has to offer and are willing to give up their aft master stateroom for the convenience of this floor plan.
The Sedan floor plan accommodations are plain and simple, leading from the aft cockpit through the salon access door with the galley up and helm down. Just two steps to negotiate into the forward staterooms. This model is ideal for those having loss of motion, arthritis, hip or knee replacements. If this sounds like you, then look no more, this is the trawler for you. The two staterooms are up front and separated by a thin wall which compromises a little of your privacy and there is only one bathroom which is located next to the staterooms on sizes under 46′.  This is a trade-off most experienced seafarers will surely go with.
The issue to address with the sedan is accessing the fly bridge. There is a fairly steep ladder, 5 to 6 steps on the aft deck through a hatch leading up to the fly bridge. This is an inconvenience to anyone that has loss of motion, (I just don't get it) it is hard enough to go up and down when you are dock side never mind underway???  The newer models addressed this issue and made some changes with the ladder making it much more accessible and a lot easier.
All hands on deck!  A full walk around, 360 degree deck all the same level provide the convenience of moving around safety and quickly, facilitating the handling of the dock lines with ease and the most pet friendly trawler made. Since the cockpit is located low to the waterline all-around water activities can be enjoyed by all.
Two types of sedan models were built: the original sedan, hull style, features an upright boxy appearance. The second, a very handsome trawler called the Europa Sedan. Her attractive outside lines has bridge overhangs with stylish support columns. This feature provides shaded side decks and rain protection. All other aspects of the Sedan trawlers are exactly the same.
You should know all there is to know about the four different trawler models before buying. It would be a wise choice to attend a trawler school.
The article above is just a small portion of the subjects discussed in our classes.
Sea U,
Captain Bob