Posts Tagged 'trawler school charters'
November 7, 2016
What time is it? It is time for our 100 hour oil change. If you do this religiously you'll be happy, and your engine & generator will be happier. There is no better way to extend the life of your engine or even double it. 100 hours my friend, every 100 hours. While you're at it, this is also a good time to change your oil & fuel filters for extra insurance.
If you like to make your oil change easy, I highly recommend an electric oil pump for your engine and generator. Using this method, it will only take you five minutes to empty the old oil. Then, you reverse the pump to put the new oil back in.
A gallon of oil is expensive, about $20 per gallon for the type I use. Five gallons for engine and generator, plus two oil filters, and five fuel filters totals about $140.00.
Breaking news: buy your oil in five-gallon buckets! I pay $65, or about $13 per/gal. bringing the total cost to $105 for a single engine, and that includes my generator.
I always use two buckets: one full with new oil to trasfer back into the engine, and one empty oil bucket for discharged old oil.
I also keep five, single, empty one-gallon oil containers and refill them from a full bucket keeping the oil I refill underway when needed keeping my cost per gallon down. I now have an empty bucket to drain the old oil in, and then take to an auto parts store that accepts old used oil for no charge!
I'm very lucky my shipmate (client) and excellent assistant, Stan from Port Arasas, Texas, will be helping me, and his lovely wife Enda is taking pictures. Being from Texas they sure know about OIL. Hearty ha ha…
Here is what you need to get started:
This is what I use on my single engine.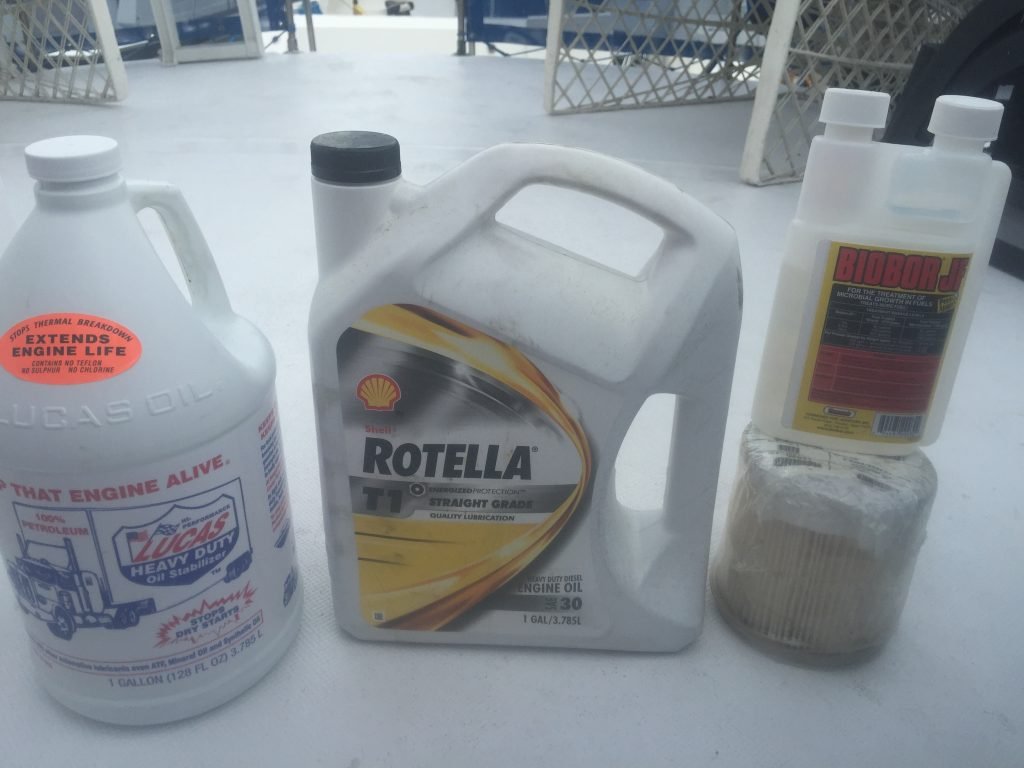 1.  Rotella  40 weight oil  (3 gallons) three-quarters mixture
2. Lucas Oil adding (1 gallon) for four gallons total. This is the miracle additive, truckers swear by it saying they receive a 100,000 miles more on their engine. It's expensive but worth every drop.
3. Engine Oil filter
4. Two Racor fuel  filters, one Engine Fuel filter
5. Generator: one Racor fuel filter, one generator fuel filterDon't forget to use BIOBOR JR to fight against growth in your fuel tanks, plus much more. 1 oz treatment for every 80 gallons of diesel fuel.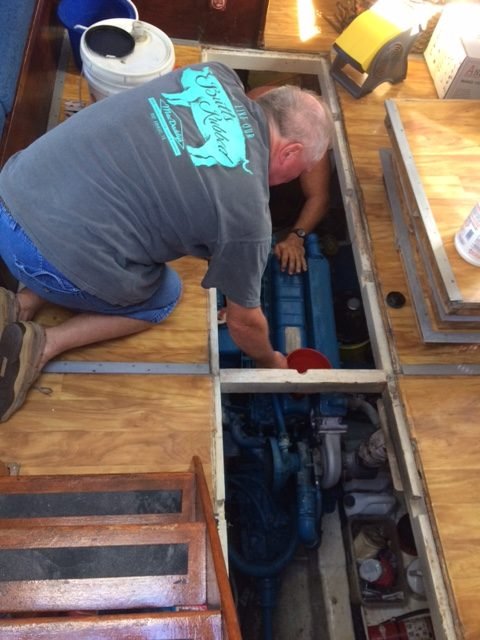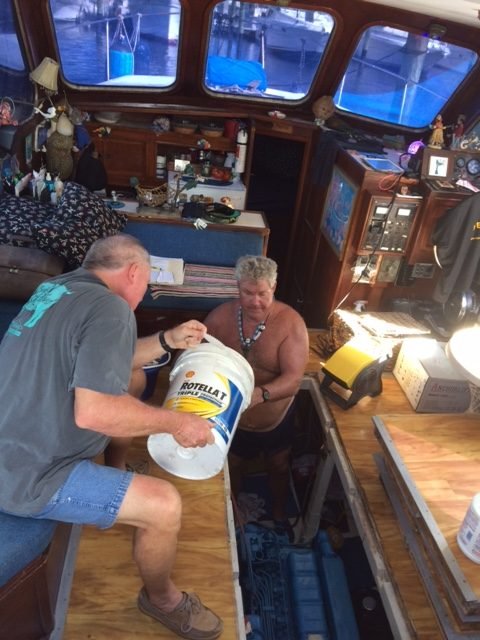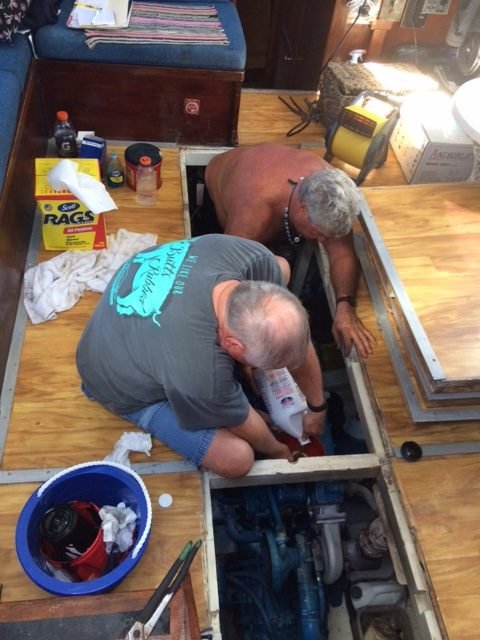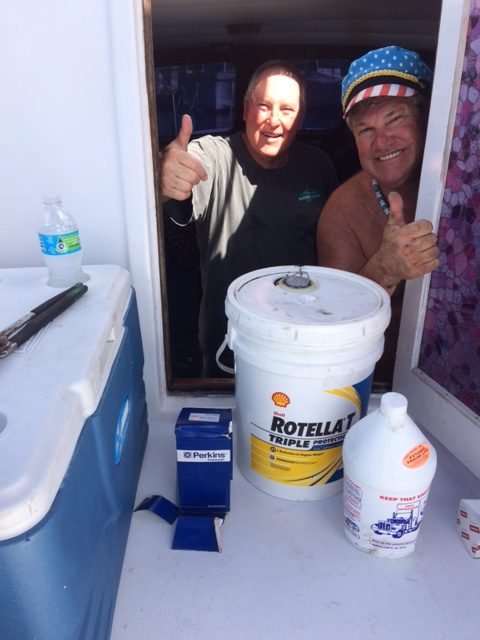 Hope you enjoyed my oil blog!
May 27, 2014
Trawler School Charters is one of the first trawler schools where you can experience living aboard for 3 days, 4 nights while learning all about ​operating​ and buying a trawler. This is our ninth year in business and we are still going strong. Hundreds of clients have graduated to become a Trawler Scholar and went on to fulfill their trawler dreams. All of their reviews are on www.trawlerschoolcharters.com/reviews – check them out, they are fun to read.
We were the first to open a private two person trawler school.  Included in our teaching are the following subjects:  living aboard, long range cruising, anchoring, electrical systems, 12 volt 110 volt system, inverters, high voltage alternators, electronics, single vs twin engines, marine diesel engine, generator, navigation, rules of the road, docking, night maneuvers, and let's not forget man overboard drills are also covered.
Choosing the Right Trawler SchoolYacht Brokerages and charter boat companies decided to add a trawler school to their company in order to benefit financially by selling you a trawler through their company. This is a conflict of interest, would you not agree?  It would very uncomfortable if the end result is to sell you a trawler for a huge commission. Trawler school charters has never sold, recommended, or been involved in finding our clients a trawler. This is one point we pride ourselves on: you can relax and learn about trawlers without any sales pitch.
I am the sole owner and operator of Trawler School Charters, a private trawler school, and I was the top broker for the largest trawler brokerage firms in Florida. I wrote "The ABC's of Trawler Buying" Book, a buyers guide to help you understand the different models and what to expect when looking for a trawler through a private seller or yacht brokerage firm. This information alone is what separates my school from all others. We want you to understand the full process of buying a trawler so we put aside a two hour class covering contract negotiations, surveyors, insurance, financing, closing, and documentation.
We offer an all inclusive rate and have not raised our rates in 9 years. We keep it simple!!! Check out our web site, it is full of information and pictures about our school. www.trawlerschoolcharters.com.
November 5, 2013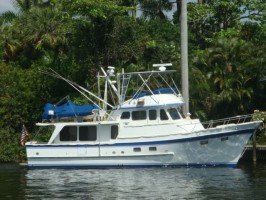 There are four types of trawlers: Trunk, Sundeck, Sedan and the Pilothouse. The pilothouse style has a hansom design and go anywhere sea- salty look. Thee Pilothouse has long been popular with northern boaters and favored by experienced yachtsman for it's "Pilothouse" and weather protected helm. In recent years we have seen their popularity grow in warmer climates where many admire their "business like" appearance. There are two types of Pilothouse trawlers; the raised and the flush deck.
The flush deck is not separated from the salon and offers no privacy. It also does not offer the view provided by the raised Pilothouse. The raised pilothouse provides operation of the vessel in complete privacy and is separate from the rest of the boat. This design is normally equipped with an overnight watch berth, a settee/dinette, a state of the art navigation station and is known for it's excellent forward and lateral visibility providing excellent night vision. Some Pilothouse's are equipped with raked windows, also known as slanted windows to help stop instrument glare at night and reflect pounding waves.

Port and starboard doors are split as a top and a bottom (commonly know as Dutch doors) so you can open the top and lookout in safety. The Portuguese bridge is a fixed solid structure with a high coaming surrounding the Pilothouse providing excellent protection from being washed overboard when the watch stander must go on deck. It also provides excellent protection from waves crashing over the bow in heavy seas.

The typical floor plan consists of cockpit access doors leading to the salon on the same level. The master stateroom with private head is generally located amidships, directly below the raised Pilothouse. The guest stateroom or staterooms are forward of the master stateroom along with a separate common head.

Some models have aft cockpit ladders that lead to the fly bridge and some with steps inside the Pilothouse leading to the fly bridge. A few models have no fly bridge.
In my opinion I consider it a must, as not having one is a negative on a resale.The fly bridge normally embodies an extended deck with a mast and boom with an electric davit to hoist the dingy to it's storage rack. The extended deck provides shade and protection over the aft cockpit and decks. The upgraded version of the Pilothouse is the Passagemaker, a better built, more expensive rugged model and is best suited for long range ocean cruising 

I hope this article gives you a better understanding of the Pilothouse trawler, however, getting onboard will be your next step if the Pilothouse sounds like it would fit your future needs.
Captain Robert Hamilton (Captain Bob)
at www.trawlerschoolcharters.com
Dania Beach Fl  trawlerschool@gmail.com
PS – For more information on learning about trawlers please click here