This article will be my hardest to write, it is so controversial. It causes people to boil over into a heated debate on which is the better set up Single or twin!  In the matter of fact I refused to write about it in the book I wrote The ABC's of Trawler Buying, that was seven years ago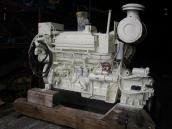 . Now that I have over eight years experience giving engine classes, I am ready to address this subject. Years ago I read an article Single vs Twin and I was disillusioned for years. It really hit me hard. When it was time to buy my Trawler I wanted a twin mainly because I am running a Trawler school 3 days 4 nights I wanted the reassurance of the back up twin engine setup. I had to settle for a single.
In my engine classes, I explain to my clients that I don't care if they buy a single or a twin. I'm not taken sides on either set up, whatever is most comfortable for you that's what counts. Years ago when I tried to write about this I made a list of pro's and con's about single vs twins, the pro's outnumbered the cons by so much, I became biased and now tilt more towards a single engine. In fact 75%of my clients favor a twin that come toy school. Take it easy, we will go over the list soon.
It took me 4 years to come up with the right answer, what you should own a single or a twin, Are you ready? If you can hold a screw driver and a wrench at the same time then you can own a single engine. In the article they made it crystal clear 90% of engine breakdown is due to fuel contamination. All I could think of was breaking down on charter, I just could not sleep at night. I will talk about the other 10%  on my next blog (flue condemnation), this article will have some good information, look for it.
Twins
Make no mistake twins are definitely for  maneuverability, you'll have that extra engine also more of a selection looking for a trawler because of the availability with twins.
With twins all your costs are doubled, oil & fuel filters, shaft, prop, transmission fuel & shift cables, instrumentations, maintenance …By the way to change my single engine & generator oil and fuel filters is now running around $120.00 per change. A twin engine room has a tight space for maintenance and leaves little room for additional equipment, water makers, generators… to be installed. Under the waterline you are left with 10 foot of exposed shafts.
Single
You can out think a single engine as long as you concentrate while maneuvering.  You should know about prop walk ( look it up) your prop and extra large rudder equals prop thrust. Your most help will come from good old mother nature, wind and current, you soon will be able to out think your vessel  after a few maneuvers. This is your only engine and you must keep it in top shape by maintaining your fuel, oil, filters, keep some spares parts on board and your good to go. The best things I enjoy about my single is the 360 degree exposure to my engine and the space in the engine room. Under the water line the shaft goes thru the keel and only 12 inches is exposed. Mine has a bimmi bar (a bar that is connected from the keel to my rudder) for full prop protection, that to me is huge.
If you need help getting off the dock a Bow thruster or a Stern thruster is the answer. That should do it. I had this on my list to purchase but after maneuvering for a few weeks, I was able to spin my trawler on a dime in a storm and also if I was pinned against the dock by wind, I learned to how to get off.
 Other than owing a twin, emergency get home engine or back up engine. these are options you should think about. although in ten years of selling trawlers, I never saw any of these options installed!  One way a back up engine is installed would be a small get home engine connected to the shaft. Sounds good but what happens if your shaft, prop or locked transmission is the problem. You are out of luck. I think the most feasible would be Stern thrusters, transom mounted unit that can be lowered and can rotate at 90 degrees. The good thing about stern thrusters is you can use then for docking.This decision is up to you and you alone. You may want to try both set up's before buying either one.