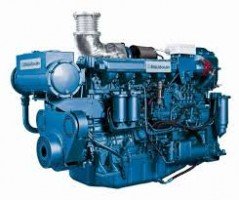 Trawler School Charters – This blog is about understanding your Diesel engine.
Diesel engines can deliver many years of trouble free service given proper preventive maintenance procedures. Fortunately, diesel engines are remarkably simple in principle and require very little in the way of routine maintenance, although what little is required it is essential for it's long life. Most diesels will run trouble free for thousands of hours just by changing your air, oil & fuel filters on a regular basis. According to the CAV, one of the worlds largest manufactures of fuel injection equipment, 90% of diesel engine problems result from contaminated fuel. The remedy is quite simple: set up a proper fuel filter system and monitor it. Knowledge is your best resource. The engine room should have the motto "Cleanliness is next to Godliness".
I will bet that within a day of reviewing this very informative book Marine Diesel Engines, 2nd Edition, written by Nigel Calder, on how to maintain, repair and improve your engine, you will understand that a diesel is a thoroughly logical piece of equipment.  Along with your owner's manual, you will be able to venture anywhere with the ability and confidence to handle any trouble that may happen to your engine should a problem come your way. All you need to know is the three basic principles of the diesel engine, they are as follows,Air, Water & Fuel and once you learn how they interact you should be able to understand the operation of your engine. You don't need to become a mechanic just know the three principles. Learning preventive maintenance can become your best defense..
Trawlers are long range cruisers, it's up to you to keep that heart beating (your engine). You are the only heart surgeon on board where ever you may be, you won't need a PHD to understand the simple operation of the diesel engine as long as you do your homework. Think of the time and money that can be saved. We're not talking about a complete overhaul, just simple repairs to keep you going "trouble free". Newcomers say to themselves, I don't want to be a mechanic, or get my hands dirty every time I have a problem, I'll just call a serviceman.
The experienced cruiser learns pretty quickly that there isn't anyone else who cares as much about your boat as you do. Also keep in mind that service is hard to find on the water or on a small Island. Many of the jobs you might pay someone else to do can be done quickly and easily once you are accustomed to working on your engine. Learning some of the routine service procedures also helps you gain knowledge and an understanding of the boats systems. The best mechanics are owners with specialized skills to work on their own engine. This theory is based on the principles that your devotion to the engine room is essential for successful cruising.