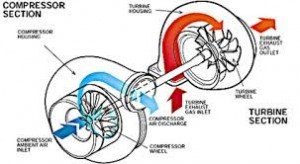 In this latest post on the Trawler School Charters Blog we are talking about Engines.  There is a difference when choosing a Diesel engine, they are either turbo charged or naturally aspirated.
A naturally aspirated engine for example is a small block that could be a 120HP or 135HP (Horse Power), this engine has no stress, it just plows slowly through the water and is a very durable engine. I found in most older trawlers 1972 through 1985 had two types of engine manufacturers, a Lehman or Perkins,. If maintained & taken care of, changing your oil and all filters between 100 -200 hours these engines can last up to 25,000 hours. If you buy a used trawler with 5,000 hours on a naturally aspirated engine then most likely you can pass this engine down to your grandchildren's, grandchildren. This is the best option to go with if you can find one, they are getting harder and harder to find. Turbo has been the up and coming engine.
Turbo charged engine, the Turbo is a 35lb apparatus bolted to your engine. It has a high speed fan with a high rpm that sucks in a lot of air that goes into your piston chamber and ignites quicker. It should give you more horse power on a small block engine, for example, your 120hp small block engine now becomes a 185hp turbo charged engine. You are now working this engine harder by putting a large load on that small block.The end result is stress and with stress comes shorter hours on your engine, end result being about 10,000 hours, you may have to rebuild your engine. That adds up to 10,000 hours turbo vs 25,000 hours on a naturally aspirated engine. Most engines are fitted with a turbo these days due to the EPA. The turbo allows for a smaller block which will sport a lesser weight engine with larger horse power. My engine has a turbo not that I wanted one, I had no choice, I could not find a naturally aspirated engine, I have been very lucky. My engine has over 18,000 hours on my turbo. This is what happens when you change your oil and filters every 100 hours. The heat on a turbo will turn the housing red hot, please watch yourself and beware of a nasty burn. Turbo's can have problems such as recalibration, rebuild or even replacing it, any of these problems are time and money for that 35 pound apparatus. Written by Captain Bob (Robert Hamilton).
For more blogs about trawlers go to 
www.trawlerschoolcharters.com
, become a trawler scholar and attend our trawler school. Hoped you enjoyed my article.
Trawler School Charters
Captain Robert L. Hamilton
USCG Licenced
Vessel Miami Mermaid
398 East Dania Beach Blvd #281
Dania Beach FL 33004
954-649-9611