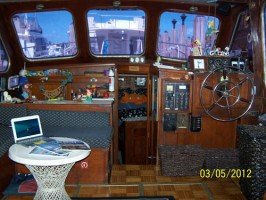 I have written many blogs concerning Trawlers and I would like to take this time to address interiors.  It's nice to have adequate space while cruising and living aboard. Most accommodations consist of a salon, one, two, or even a three stateroom layout, one or two heads, not excluding the engine room.
Salons:
Salons are one of the most desirable features enjoyed by owners. Salons are oversized with extra large windows providing a 360-degree panoramic view. Trawler interior's normally come with wonderfully hand carved teak trim, it is well appreciated and provides a warm environment. Don't be surprised to find parquet teak floors with built in L shaped settees, high/low teak tables with the up position for dinning and the down position that converts to a cocktail or coffee table, this allows more space when needed. The Salon is the most important room on the trawler and it is where all of your entertainment will take place and where you will spend the majority of your time
Staterooms:
Trunks and Sundeck trawlers have separated staterooms which is great for privacy, each with it's own head and shower. The master stateroom, being aft, normally has a centerline berth. The centerline is very popular and easy to make up,  whereas the offset is up against the wall and when sleeping together when your mate has to use the bathroom, you must crawl over your partner and most likely disturb their sleep. The offset layout is popular with ocean going trawlers, due to its design, it is harder to fall off in stormy sea's.
The guest state room being forward, the berths could be offset. You can a have bunk bed, twin down and a single up or the centerline berth. I happen to like the bunk design as it houses a brother/ sister, two men, two women, husband/wife etc., giving you a broader choice of sleeping arrangements. Please note when buying a trawler do not put to much stock in selecting your stateroom, just think about the fact you are only in it 5% of the time and 4% of that you are sleeping leaving 1% of time in the stateroom. The Sedan and Pilothouse have staterooms amidships and up front where you lose much of your privacy and usually has one head 45′ and under the head is also located in that area.
Galley:
Galley up is flush with the salon. while cooking you are in the same area and floor level as your guest. You have a full view looking out of the salon windows when cooking. The disadvantage of the galley up is it being flush with the salon, hence the two become one with no sense of separation. The person doing the cooking may want galley up so they are not isolated from their partner or company making this is a very popular choice.
Galley down ensures a spacious main salon. Some may like the separation between the galley and salon, it gives you a sense of privacy while cooking and you are separated from others. Another thing I would like to make you aware of is you have steps going up and down to deal with.. Some galley down styles have a separate dinette table with either bench seating or u-shaped seating across from the galley and the table can convert to a drop down bed. Some styles may also have a common head in this area.
Heads:
Heads are normally connected to your staterooms. The master with it's own private head. The guest room will most likely have a common head meaning it has two doors one to the stateroom and the other in a common area for passenger's to use. Heads can have a shower not being separated, it will wet the entire head. A separate shower installed will keep the rest of the head dry. Showers can come with half or full tubs.
Written by Captain Robert Hamilton aka Captain Bob.
For more blogs and information on Trawlers please visit www.trawlerschoolcharters.com.
You can contact me at trawlerschool@gmail.com or call 954-649-9611